Regarding the performance of the fixed conveyor belt, it can be said: the design and construction of the conveyor belt devices can be done according to the needs of the consumer and with the dimensions and specifications he wants.
Conveyors are designed and manufactured in two types: fixed conveyors and loading or moving conveyors. The variety of materials used in the construction of the chassis of conveyor devices is very large.
Based on the needs and design data, as well as after engineering calculations, chassis construction is done in three ways.
• Stud and beam chassis
• Profile chassis
• The third type of tubular chassis
Application and uses of conveyor belt
Conveyor devices and especially fixed conveyor devices have wide functions in various industries and all over the world.
The reason why consumers are more accepting of this transfer device than other materials transfer equipment, especially bulk materials, is their many advantages.
The most important feature of the fixed conveyor belt is its ability to transfer bulk materials of various sizes and from small to large amounts and the ability to control this wide range of materials.
For example, conveyors and fixed conveyors can be used to load very small materials such as Portland cement in terminals to transport and transfer large bulk materials such as coal.
Increasing the capacity of the fixed conveyor belt
In the design of fixed conveyor belt devices, a method can be used so that these devices can control the amount of capacity in each operation.
In the type of conveyors used in unloading ships, the desired capacity should normally be up to 10,000 tons per hour.
The design of the belt conveyor can be done in such a way that it can be used for batch operations or for moving a small amount of material among other processes.
Belt conveyor design can be done horizontally or on a slope or a combination of both to transfer materials.
Normally, a belt conveyor is used to transport materials at a certain distance and horizontally, then to lift these materials from the belt in an inclined manner and then horizontally again.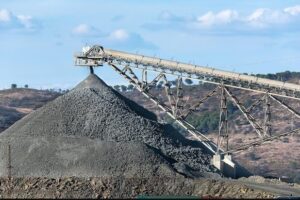 Advantages of using these devices
It is possible to use belts in fixed conveyor devices according to their position and installation angle, based on their granulation size range and physical characteristics of these materials such as their specific weight, size and size of parts, or humidity. They changed.
In the fixed conveyor belt, simple belts or normal belts are used for the horizontal position of the belt or with a gentle slope.
But in conveyors whose belts have steeper and larger slopes, ribbed belts should be used.
The treads on ribbed belts are usually U-shaped or V-shaped and are about 4 inches to 8 inches high.
Fixed conveyor features
Fixed conveyor devices, as their name suggests, must be fixed in one place and not moved to transfer materials.
Also, the height of these transmission devices must be fixed. These devices can be classified based on the appearance of each strip or the type of use.
They can be divided based on the type of strips. They can be made based on various applications.
Different lengths and widths of belts can change the function of these industrial devices.
The performance of the fixed conveyor depends on the type and dimensions of the factory where it is to be located. It also varies based on the type of work to be done and the type of goods to be moved.
Other technical features of the fixed conveyor device
• These devices have a long life. They can be used for many years.
• The rate of failure and the need to replace parts of these devices is very small.
• They are easy to maintain.
• If they are wheeled, it can be used as a mobile conveyor device.
• They have a low price and are so called cheap.
• Their use in various industries speeds up various operations and affects the amount of production. It also increases the amount of production.
• The existence of these devices in every part helps the overall process of work. But to maintain the strength of the device and prevent its failure, it must be lubricated continuously.
You can contact our experts at Kimia Machine Alborz for more information on conveyor belts and other mineral processing equipment.